During the first years of your baby's life, it is imperative to have optimal nutrition. Most times, babies are incapable of either digesting or withstanding all the nasty stuff found in non-organic foods such as growth hormones, antibiotics, pesticide residues or fertilizers. Fortunately, a healthy alternative that comes in the form of the best organic food products for babies is just a few lines away. Let the countdown begin!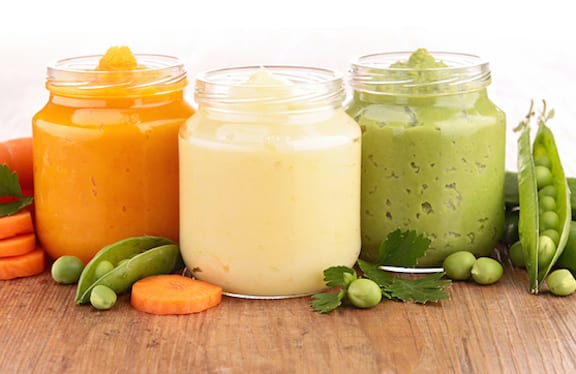 [thrive_headline_focus title="Benefits of Choosing Organic Over Conventionally Grown Baby Food" orientation="center"]
Βefore jumping to the list with the best organic food products for babies, it's best if you knew why you should opt for them in the first place.
The modern non-organic baby food industry has made its peace with using all sorts of pesticides to prevent crop loss. However, the harmful substances in pesticides find their way into the food products and from there to your baby's high chair.
On the other hand, the organic baby food industry stands up against this practice claiming (and for a good reason!) that pesticides contain harmful chemicals and carcinogens. Thus, they have no reason of being in babies' food due to their toxic and unsafe nature. To eliminate this health risk, organic baby food producers stay away from pesticides that are potentially harmful.
Apart from pesticides, non-organic baby foods often contain antibiotics. Animals in non-organic farms are being distributed an array of antibiotics to prevent diseases and infections. However, these drugs become part of the animal's body and, thus, manage to reach your baby's plate once more in the form of dairy products or meats. Be that as it may, organic baby food products steer clear of this method and offer an antibiotic-free alternative.
Along with pesticide residues and antibiotics, non-organic baby food also contains growth hormones such as Estradiol and Testosterone. Worried about the adverse effects of these substances on infants' health, scientists examined the issue. According to the results, hormonal substances have a slight health impact EVEN IF they are administered under a vet's supervision. Unlike non-organic food, organic products are naturally produced leaving no room for artificial hormones.
For more insightful information, feel free to check out Dr. David Hill's video.
[thrive_headline_focus title="4 Things To Look For When Shopping For Organic Baby Food" orientation="center"]
When it comes to baby food, you always need to keep your guard up. From the ingredient list to the expiration date, you should scan your baby's food from every point of view. Organic food is no different. Even though it is bound to be a "clean" and super healthy feeding option, it should still tick all the following boxes:
Go through the ingredient list to check for additives or preservatives.

Substances such as ascorbic acid and artificial flavors (Monosodium Glutamate) can pose a health risk to your baby's health. So, avoid such foods at all costs.

Refrain from foods that contain sugar or various forms of it. The ingredient list is your baby food Bible. If the product contains sugar or (most commonly

) high fructose corn syrup, put it back on the shelf.

Don't mistake non-GMO products for organic. There is a huge difference between non-GMO

and organic products. According to

USDA

, organic crops are prohibited to use pesticides, herbicides, the neurotoxi

n Hexane and several other harmful substances whereas non-GMO crops are allowed to do so. So, pass on any products with non-GMO labels no matter what.

Check the expiration date.

Even if it's obvious, this tip is imperative.
[thrive_headline_focus title="What Might Stop You From Buying Organic Baby Food" orientation="center"]
Despite all of the advantages, organic baby food has a slightly negative side to show. So, before you spring for this type of products, why not listen to the other end of the story and weigh the options before you make a decision.
Going Organic Can Be Expensive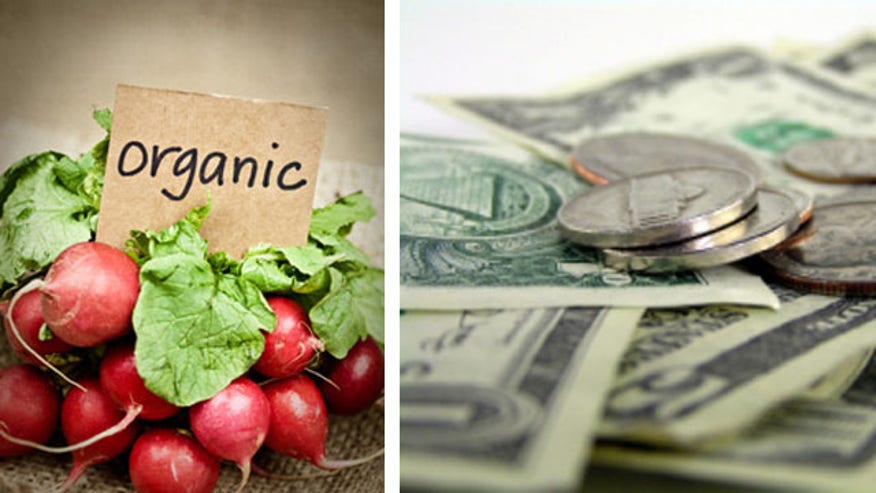 Although some may argue that going organic may save you money by preventing diseases etc., you need to know that naturally grown foods for babies are quite pricey. That occurs due to intense manual labor and high costs of organic farming. Most parents, though, overcome this factor considering their baby's health.
Producing organic products can take twice the time than conventional variations do. Also, there are not many farms that dive into the organic business. So, sometimes organic baby food can be difficult to track down. Luckily, the Internet is the answer to this issue.
Study Concludes That Organic Products Are Not More Nutritious Than Conventional
In 2012, scientists decided to compare and contrast organic and non-organic products on a nutritional level. This study proved that there is NO nutritional difference between the two feeding options. To quote the authors, "Despite the widespread perception that organically produced foods are more nutritious than conventional alternatives, we did not find robust evidence supporting this perception."
[thrive_headline_focus title="5 Best Organic Baby Food Products" orientation="center"]
Even though the market is full of such products, the following five excel regarding nutrition and taste. Here is what you need to know.
This product comes straight from organic produce located in North America. As a result, it passes the quality test by meeting the health requirements of USDA.
Free of Sugar and Harmful Additives
From sugar and salt to extra juice, flavor and color additives, Plum Organics Just Veggies contain nothing but the ingredients and nutrients your baby's body needs to develop.
Apart from being delicious for the baby, this product is also convenient for all moms to use, especially if you are on the go. The fruit puree is safely stored in a food pouch which you can reseal and use later.
Plum Organics Just Veggies is one of the most affordable choices in the market. The whole package contains 12 3-ounce food pouches giving the opportunity to buy 36 ounces of organic baby food for under 20$.
Negligible Packaging Health Concerns
Some buyers have expressed their concern in regards to the product's packaging. In particular, mummies worry about harmful plastic chemicals that may infiltrate in the puree since the packaging is manufactured in China. However, the truth is that the material used is BPA-free which means there is no reason to worry about toxic chemicals.



Once your baby grows some more (8 months old), you see that it is ready to move on to foods with a thicker consistency. Even small pieces of solid food are welcome now and then. To cater this need without making discounts on the health factor, Happy Baby produced Clearly Crafted. Why is this product worth your attention?
This organic product features an innovative concept when it comes to packaging. Happy Baby Clearly Crafted has a clear packaging so that you can see exactly what and how much your baby eats.
Ideal For Introducing Babies To Solid Foods
Available in 12 different flavor combinations, this baby food contains small pieces of solid ingredients such as oats. Such food promotes your baby's tongue thrust reflex – responsible for chewing and swallowing larger pieces of food.
Along with offering multiple tasty combinations, this fruit/vegetable puree has been certified as a purely organic and non-GMO product making it an ideal choice for your baby's healthy menu.
Some moms feel that 25-28$ are a lot considering each package contains 16 4-ounce pouches.



By this stage (10 months old and up), not only can your baby swallow more easily, but it also has teeth. At this point, it's recommended you started feeding the little one with soft chunks of foods such as bananas. Here is when Happy Tot Organics Super Morning steps in.
An Energy-Rich Breakfast Choice
This organic product contains oats, blueberry, banana, chia seeds and yogurt making an ideal breakfast meal for your little champ. Yogurt, chia seeds, and oats are rich in fiber and healthy Omega-3 fatty acids that promote your baby's development while fueling it with energy.
Children of all ages are in desperate need of Vitamins and Vitamin C is no exception. From boosting the immune system to speeding up the healing rate, Vitamin C is essential for babies' healthy development. With that in mind, the manufacturers of the Super Morning line made sure that a single pouch of the product provides kids with up to 80% of their daily Vitamin C need.
The product's packaging contains no BPA (found in plastic) which is known to intoxicate foods and drinks.
The U.S. Department of Agriculture certified that this product is made out of purely organic products.
Short Storage Life Once Opened
Unlike conventional, organic products have a short shelf and storage life. That is also the case with the Super Morning organic line. Once you open the pouch, you need to consume the puree in less than 24 hours.



Another healthy option for on the go moms, Plum Organics Second Blends comes in 10 different flavors to satisfy every baby's taste. From pumpkin and banana to corn and apple, this organic baby food line can readily turn into a staple in your everyday menu.
Beware Of The Plastic Cap
Even though the pouches are safe for babies to use, you might want to keep an eye on the plastic lid. Some babies may attempt to put it into their mouth causing them to choke.
Apart from the fact that USDA has attested to the organic profile of its ingredients, Plum Second Blends doesn't contain any artificial sweeteners, flavors, and additives of any kind.
Through this link, you see that an 18-pack bundle costs less than 25$. Considering that they can last for up to a month, some moms have called this package a steal.
No Packaging Adverse Effects
Like several organic products, Plum Second Blends have invested in BPA-free pouches that make sure no plastic chemicals infiltrate in your baby's food.
Moms often worry when feeding their children pouch-based food that the opening is not big enough. Unlike other pouch food products, this one comes with a small opening granting your little one a slice of independence without making a mess.



With a long history in producing baby food, Gerber has jumped into the organic food arena quite successfully. Gerber Organic Food Pouches is one those choices that simply can't go wrong. You always know you are in for something fresh and healthy.
Free Of Preservatives And Additives
Like any baby-friendly food, Gerber Organic Food Pouches contain NO salt additives and is free of sugar as well as starchy ingredients making the fruit puree easier to digest. Also, manufacturers left no room for artificial color and flavors.
This baby food product is also approved by USDA which means that it consists purely of organic ingredients grown and harvested under strict regulations. On accounts of being 100% organic, Gerber's Food Pouches don't contain GMO ingredients as well.
This food line comes in 11 different flavors giving you and your baby the chance to explore as many vegetables and fruit as possible.



[thrive_headline_focus title="And The Prize Goes To…" orientation="center"]
The Clearly Crafted line by Happy Baby is a clear winner in this organic baby food mini competition. Even though each one of these 5 products brings many benefits to the table, Clearly Crafted is by far the safest and wisest choice. Why? Not only is it certified by USDA, but it also free of GMO ingredients. That means that this product contains 100% organic ingredients and no pesticide residues, antibiotics, and various harmful substances.
This organic baby food line also doesn't include any preservatives or additives (flavor, sugar, salt). Along with the many flavor choices, you found yourself a healthy way to introduce your baby to solid foods without stuffing it with sugar.
Unlike the other products in this list, Clearly Crafted also features a unique element. The food pouch is clear for moms to know how much or what their babies are consuming. It is also suitable for all babies and toddlers older than 8 months old whereas Plum Organics Just Veggies isn't. The only drawback is the high price. However, considering all the health benefits this product has to offer, the price seems negligible.