Last Updated on
I have been searching for the best strollers in the market. Based on my findings, there are four top strollers that I prefer – they are of the Stokke brand! To make your job easier, I have provided for you the best of Stokke Stroller review.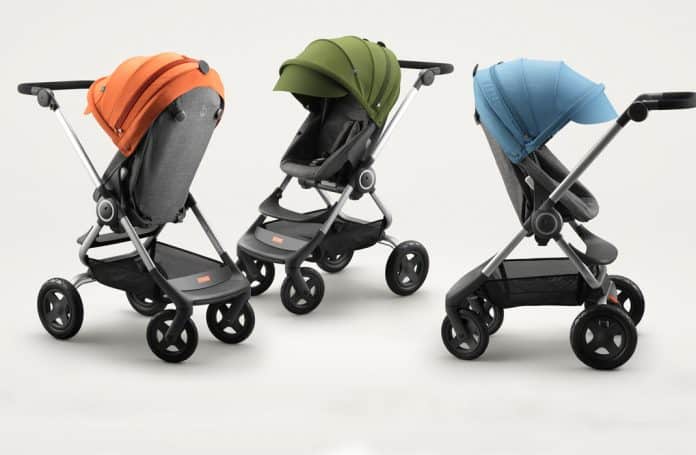 In this Stokke stroller review article, I will let you know what I like and don't like about each one. All you need to do is to consider the pros and cons and purchase the one you prefer!
SHOULD I GET A BABY STROLLER?
A baby stroller is made to assist parents in bringing their baby around in the outdoors for a long period of time without having to hand-carry your baby or carry them in baby slings, which can be rather inconvenient and tiring even. While technically you could carry your baby close to your body as you go out, having a baby stroller leaves your hands free to do more things like popping into a store for a quick pick-me-up or enjoying a nice, long stroll with your baby in comfort.
Should you get a baby stroller? The answer is yes, more so if you love the outdoors and shopping as much as I do! You will definitely thank yourself for having this handy baby item around.
Why Should You Invest in the Best Baby Stroller?
I am always tempted to buy the cheapest (or I call it, reasonable) stroller because it will not be used for too long. When my children grow up, they might not need it anymore. So, why break a bank just for a stroller? Or, so I thought.
After doing my research, there are several solid reasons why you and I should invest in a high-quality and reliable baby stroller. They can provide the following:
Mobility – One of the major reasons why you should buy the best baby stroller is because it provides ultimate mobility. It is very easy to carry around. Some brands even provide storage bag for the stroller to make carrying around easier, which is not a necessity but a nice bonus though.
Smooth Handling – Another thing that you will notice when testing a high-quality stroller is that the wheels move very smoothly.

The rear wheels provide stability while the front two wheel

s can turn freely in accordance with your steering

especially when the stroller comes with adjustable handle

– I love it!
Storage – You might think storage compartment is not necessary. However, when you are about to go out with your small child, you will need to bring his milk bottles, diapers, wipes, pacifiers, toys, maybe a shopping bag even, and the list goes one. Hence, storage is crucial, as emphasized by Zotheysay.com!
Durability – Again, if you invest a bulk of money on your baby's stroller, you can use it for as long as you need. It won't easily break down. Even if they do, there is always a premium warranty. Don't you agree?
Stylish – Of course, when you purchase the top-selling stroller, you will get another thing that is not offered by standard strollers – style! It is as if you are buying your little one a BMW or Audi. Plus, I bet you will look stylish pushing that fashionable and robust stroller.
Why Is Stokke Stroller One of the Best Options?
When it comes to baby strollers , many Hollywood celebrities prefer top brands such as Bugaboo, Graco, Orbit, and MacLaren. I mean, we can all invest as much as Jessica Alba with an Orbit Baby Stroller G2 at $750 or Jennifer Garner with the shiny Maclaren Grand Tour LX at $ 675, and you will never regret it.
So, how does Stokke fit in – why do I talk about Stokke strollers in this article? It is because the Stokke brand is one of the luxurious and top-of-the-line product in the stroller markets.
Stokke is famous for the quality of the materials, sturdy frame, and high maneuverability. It is like the Mercedes of strollers. They are minimalist yet stylish and spacious yet compact!
Jessica Alba also has one of the Stokke strollers, alongside with Gwyneth Paltrow! We all know celebrities usually have a high standards of expectations when it comes to getting items for use, so you definitely can't go wrong with Stokke strollers!
Best of Stokke Stroller Review – 4 Best Stoke Strollers
If you are looking for the best models from Stokke and have extra budget to splurge, consider the following four strollers. Trust me; they are worthy of consideration.
| # | Preview | Product | Price | |
| --- | --- | --- | --- | --- |
| 1 | | Stokke Scoot Complete Stroller, Black Melange | $399.99 | CHECK PRICE |
| 2 | | Stokke Xplory V4 Stroller Black Melange | | CHECK PRICE |
| 3 | | Stokke Trailz with Terrain Wheels, Black Melange | | CHECK PRICE |
| 4 | | Stokke Crusi Stroller - Deep Blue | $788.88 | CHECK PRICE |
Let's have a look at each one in this Stokke stroller review!
Stokke Scoot Stroller, BLACK MELANGE
The Scoot Stroller from Stokke is one of my favorite strollers in this list of Stokke stroller review. Firstly, the price is affordable at below $500. However, it is not short of sleek design and extra features.
The seat of the stroller comes in three different positions (easily adjustable seat height). The fact that it has a similar height to café table can help you and other parents to easily watch or feed your child while eating at a restaurant.
Another reason why you should consider the Scoot stroller is because of the quiet and soft handling.
The wheels, which made of rubber tires, can glide on rough surfaces with ease. The soft suspension helps further to ensure smooth running on the ground.
If you have a pebbled driveway or plan to use the stroller for hiking trails, this model is ideal for you. Furthermore, what's not to like about the design?
With its traditional four wheels, huge but ergonomic canopy (it comes complete with UPF 50+ sun protection!), well-integrated storage area, and brake security features, the stroller look quite modern and stylish!
Also, you will appreciate the one-hand folding design. This feature is very helpful if you are in a hurry and need to put your child quickly inside the stroller. It is not clunky or tight.
PROS
Runs smoothly on the ground
Stylish design
Easy to fold and release
Robust wheels
Huge sun visor
CONS
Lack of bassinet
The wheel brakes can randomly lock the wheels
Should have bigger storage
Stokke Scoot Stroller - Aqua Blue
Lightweight, compact, and foldable with one hand
For use from newborn to children weighing 33 lbs
Versatile seat positions keep baby comfortable and promote interaction with parents
Stokke Xplory V4 Stroller Black Melange
Source: Goodhousekeeping.com
In this Stokke stroller review, I have also included this top-notch baby stroller – Stokke Xplory Stroller.
After learning a thing or two about the features and offerings of this model, I can honestly say that it can make a good carrier for your baby if you are always outside – running errands or meeting up with friends at cafes or restaurants.
Why did I say that? It is because the design of Stokke Xplory Stroller caters to the needs of those who are always out and about.
Firstly, it had a high seat. Your child will enjoy sitting in this stroller as he can be close to you. Also, there is no need for you to bend down to attend to your child.
Having him sitting next to you in a café at a similar eye level is a bonus if you use this stroller!
This 5-star stroller (as rated on Amazon) is also great because it comes with other extra accessories. You can purchase a carrycot to use it with the stroller.
Now, the price tag might have a premium rate, but it is worth it. Most buyers on Amazon are highly satisfied with this model, and I think you will feel the same too!
PROS
Stable and sturdy when you run it on the ground
Premium materials with sophisticated design
Upright seating position as well as adjustable reclining seating
Comes with a mosquito net & rain shield
CONS
Big in size
Heavy at about 39 lbs
Stokke Trailz Stroller
Source: Amazon.com
Stokke Trailz is another high-end model from the manufacturer. It looks quite like Stokke Xplory, but it does not have the adjustable seat that Xplory offers.
Nevertheless, it still provides unique features that I think you will appreciate. Firstly, the huge wheels with advanced suspensions.
One thing that you will notice when you use it is that steering it around is very quick and easy.
It turns, go forward and backward smoothly. Some users even considered Stokke Trailz as an almost jogging stroller for beach sand terrain. It provides ultimate comfort in handling and steering.
Secondly, many users have complimented the clever seating arrangement in the form of a reversible seat. The rear facing feature of the seat helps foster a great connection between parents and children since there will be constant eye contact with your child.
You will find it very easy to chat or feed your baby while he is in the buggy. There is no need to take him out as the seat is quite high and accessible while standing.
Another great feature that I would like to point out is that this stroller is very versatile. It can be integrated into a complete travel system. You can purchase a car seat or carrier and use it with this model – very handy!
PROS
Suitable for newborns
Can flip the seat inward or backward
Robust wheels
Smooth steering
High-quality materials
CONS
Heavy at about 42 lbs
Bulky and not compact when folded
Non-adjustable seat height
Stokke Crusi Stroller

Source: Stokke
If you would like to buy a Stokke stroller with a complete system, you might want to consider this next best model in this Stokke stroller review – Stokke Crusi Stroller.
You can convert it into a carry cot, sibling seat, and just, a seat, as your children grow. Now, this is what I call a one-time investment. Spend about $1,000, and you are all set for many years to come!
Also, another feature that I love on this Crusi Stroller is its highly adjustable seating position. I like how I can put in my small kid or grown child into the adjustable seat and change it per my needs.
The three mode – rest, active, and sleep – allows your son or daughter to sleep comfortably or sit and play whenever he wants. If you use it for your small kid, he might not even want to leave it – it is that comfortable!
Plus, you can also flip the chair inward with the two settings, rest and active. Playing, feeding or chatting with your child, who is sitting up high, is very comfortable with this model.
With the extra padded seats, well-designed ventilation, and large canopy, coziness is something that is guaranteed for your little one.
There is also a foot rest for your toddler to put down his feet – practical and comfortable!
PROS
Stable maneuvering
Suitable for rough terrains
Comfortable seating
High chair
CONS
Heavy at 40 pounds
Does not integrate infant car seat
Our top pick of stokke stroller REVIEW
Finding for the best travel system such as a baby stroller is no easy task but with the best stroller, you can expect it to continue functioning for many years, together with the growth of your child. Consider one of the recommended models above in this Stokke stroller review – you will not regret it!
Stokke Scoot Stroller is on top of my list due to its reasonable price, top-notch durability, easy handling, and high portability.
Plus, I also appreciate how I do not have to waste my time trying to fold or release a stroller while I am out in town. A simple lock or release of the latch will make it ready for me to store or push!
Behind the expensive price tag, there is a full Stokke warranty that will give you a peace of mind if anything goes wrong unexpectedly with your Stokke strollers.
It ensures a long-lasting satisfaction and functionality for you and your precious baby!
Last update on 2020-08-05 / Affiliate links / Images from Amazon Product Advertising API