Baby monitors have become a rather essential item to have in the baby gear arsenal, mainly due to the rising needs of keeping watch of infants and toddlers to make sure they are safe and sound at all times. There are many choices in the market for such a device, each ideal for a variety of functions for different types of budget.
Today, we will cover the best baby monitor for two rooms for the benefit of those of you who live in large houses or somewhere with multiple rooms. For such settings, getting a baby monitor that allows you to view multiple spaces via a few presses of buttons on your mobile or parent unit will make caring for your little ones easier and less stressful.
Top 8 Picks of the Best Baby Monitor for Two Rooms
Do I Need a Baby Monitor for Two Rooms?
A video baby monitor for two rooms will come in handy if:
You want to monitor your kids' activities in different rooms
You are always working in another room than the ones your kids are at
You are tired of shifting cameras between two rooms
What to Look for in Best Baby Monitor for Two Rooms
When monitoring two rooms or more, video baby monitors are the better option as compared to audio-only monitors. Now that you're set on getting a multi-camera baby monitor, you can't help but wonder, what are the things to look out for prior to the purchase?
Fret not — here are some guidelines for you:
Expandability
When searching for the best baby monitor for two rooms, this is the most important factor to consider. You want baby monitors with 2 cameras at least and not one that can only pair with a single camera (which will defeat the purpose of monitoring two rooms anyway).
Thankfully, most baby monitors in the market can accommodate two cameras and more, with some pairing up to four cameras at once. Baby monitors that can expand with more cameras are great since that means you have more "eyes" in the house to watch over your kids.
Signal Strength and Range
Some baby monitors have a short range of about 50 feet whereas some models can detect signals from as far as 1000 feet apart or more. You would want a baby monitor whose parent unit can reliably connect with the cameras within the range suitable to the size of your house.
Another option will be to get a model that allows for unlimited range via mobile app monitoring, however, such a device tends to rely heavily on internet connectivity.
Power Source and Battery Lifespan
This is an important factor to think about when getting the best baby monitor for two rooms. Would you be shifting your baby monitor between rooms frequently or will it be fixed to a spot?
Consider getting a battery-powered baby monitor if you plan to move the device a lot in the house. Also, baby monitors that can last longer for a single charge is a good choice as you don't want to keep having to charge the unit after just two or three hours of use.
Picture & Video Quality
As a parent, you are probably feeling tired for the most part of parenthood, so having a baby monitor with great picture and video quality will be a welcome addition. Try picking one that gives you a good enough resolution without having to wonder whatever that is going on at the scratchy, grainy feed on screen. You can also consider buying the best dual baby monitor if you appreciate split-screen feature.
Screen Display Size
Generally, the bigger the baby monitor screen, the better the view in terms of user comfort. A large screen lets you easily see your babies with quick glances. Additionally, a bigger screen display also makes split-screen viewing a much better experience compared to smaller screen size.
Night Mode
This is a great feature to look for in the best baby monitor for two rooms. Having night mode means your monitor can automatically detect low light setting and transition the camera and display into one that can capture all images in the dark without skimping on details. You will know in case your babies decide to make a run out of their cribs at night.
Other Nice-to-Have Features
Some baby monitors come with bonus features such as energy-saving voice-activated exchange (VOX) mode, two-way talkback, preset lullabies, a sensor for temperature, audio-only mode and dual-screen mode. These features can make monitoring your kids a more hassle-free task.
Top Baby Monitor for 2 Rooms Revealed
After much research and comparison, we have shortlisted these eight great picks to help you figure out the best baby monitor for two rooms to get for your home:
1. Axvue E662 Video Baby Monitor
For a video baby monitor that can support up to 4 cameras, the Axvue E662 Video Baby Monitor is a great affordable option that does not cut back from providing good features.
This monitor comes with a handheld video baby monitor with 2 cameras, with the parent device LCD screen size of 2.8 inches that displays colorful high-resolution images. The cameras can stand on their own with a well-built base so you can easily place them on flat surfaces or move them around anytime. It relies on secure digital 2.4GHz transmission between the parent unit and cameras so rest assured you won't have strangers tapping into your babies' activities.
Engineered with dark settings in mind, the cameras are equipped with six infrared lights that allow you to watch your babies at night up to 30 feet away with less noise interference. Apart from the convenient night vision, the soothing glow from the LED lights also makes your babies feel more comfortable as they sleep in their rooms.
It also has an in-built ambient temperature sensor that you can monitor via the parent unit. The two-way talk makes it easier for you to calm your babies or sing lullabies to them without having to rush to them every time they cry for you.
This device is battery powered for portability. You will receive signals when readings go out of range or when the battery is low. You don't have to worry about charging the monitor too often though as it has a 3-level sensitivity VOX mode that helps to conserve battery during use.
Pros:
Easy to setup
Affordable
Good night vision
Excellent battery life with adjustable VOX mode
Effective long range up to 800 feet
Clear audio and image quality
Cons:
Small screen
No split-screen function
Sale
Joovy Caboose Ultralight Graphite Stroller, Black
The lightest weight, most compact, and maneuverable double stroller available allows your older child to sit and stand on the rear platform or bench seat. 22 pounds
2 year warranty is 4 times longer than the baby trend sit and stand warranty and 2 times longer than the Graco ready2 grow warranty - Satisfaction guaranteed. Features three point harness in rear bench seat
Includes parent organizer and a universal car seat adapter that fits most major brands. Check the Joovy website for the most recent list. Never allow a rear seated child to use the canopy as a hand hold
2. Moonybaby Split 60 Video Baby Monitor
The Moonybaby Split 60 Video Baby Monitor is one of the best dual view baby monitors to consider if you prefer watching your kids in two rooms side by side on screen. You can also switch to scan mode when you decide to do away with split-screen mode and want the monitor to cycle between views.
It has a nice large 4.3-inch display, which you can conveniently keep an eye over your children as you work on your tasks. You can simply adjust the view of the cameras remotely. There is also a VOX mode to help you extend the monitor's battery life, turning on the unit only when sound is detected from the cameras' ends.
Stay connected to your babies up to 1000 feet in open area, which means you can even listen in or watch your little ones while you are working in the garden or backyard. You can even talk back via the intercom and remotely play lullabies to calm them at a distance.
The device automatically transitions to night vision when in the dark so that you can view your kids clearly. You will also be alerted when the room temperature falls out of range.
Pros:
Easy-to-use interface
Ability to change between Split Screen Mode and Scan Mode
Decently large screen
Long battery life up to 12-14 hours with display on
Audio quality is clear
Cons:
May suffer from frequent signal loss despite the advertised range
Only connects up to 2 cameras
Battery lifespan seems to degrade very fast with heavy usage
Sale
Baby Jogger City Select LUX Stroller | Baby Stroller with 20 Ways to Ride, Goes from Single to Double Stroller | Quick Fold Stroller, Granite
Converts from a single to a double stroller; most riding options of any single to double stroller; 25 percentage more riding options than City Select, with the bench seat accessory
Seats can be front facing, parent facing, or sibiling facing; folding stroller, including auto lock, folds 30 percentage smaller than City Select; hand operated decelerating and parking brake, all in one control
All terrain stroller features all wheel suspension and locking front swivel wheels for control; telescoping handlebar adjusts to users of different heights; extended UV50 plus canopy with peek a boo window keeps baby shaded
3. DBPOWER Video Baby Monitor
The DBPOWER Video Baby Monitor makes it into our list of best baby monitor for two rooms and for good reasons too — who doesn't love an all-rounder kind of baby monitor that doesn't bring too much damage to the pockets?
It can pair up to four cameras, and the cameras can either be mounted on the wall or set atop a dresser depending on your preference. Scan 360 degrees, tilt 90 degrees and zoom in two times for a closer look with confidence knowing that you can watch your babies and every corner of the monitored space remotely with ease.
This monitor is pretty easy to set up and you don't need an app since you will be monitoring via a parent unit. Battery life is also great, with a holding capacity of 2000mAh, the parent unit can last up to 6 hours for full display usage and up to 10 hours when in Eco Mode in a single charge.
The 3.5-inch screen is also a nice bonus, providing you with a clearer view of your kids. Audio and video feedback are instant with the device's real-time data transmission. With 7 infrared lights on cameras, keeping track of your babies' movements in the dark is not a problem as the night vision is pretty good for a monitor at such a price range.
It's also nice to know that the monitor also can detect room temperature, has a built-in microphone for two-way communication and five types of lullabies to soothe your babies to sleep. A cool feature includes a feeding alarm which you can set to go off at 2, 4 or 6 hours to remind you to feed your little ones.
Pros:
Long range up to 1000 feet
Feeding alarm is helpful for busy parents
Battery saver with Eco Mode
Can hold power up to 10 hours
Five calming lullabies
No feed delay with real-time transmission
Cons:
Lost signal alert can be too noisy and annoying
Camera cannot tilt all the way down
Lullaby volume not controllable
Sale
Baby Trend Sit N Stand Ultra Tandem Stroller, Phantom
Accommodates up to 2 children sitting in stroller seats, up to 2 in infant car seats,(sold separately) or one sitting and one standing. The product has a One hand fold
Stroller allows your older child to stand on the rear platform or sit on the rear seat , Care and Cleaning - Spot or wipe clean
Accepts one or two infant car seats (sold separately) and accommodates all Baby Trend Infant Car Seats and select models from other brands to create a travel system
4. eufy Spaceview Video Baby Monitor
Looking for the best 2 camera baby monitor that has a big screen? Consider getting eufy Spaceview Video Baby Monitor for your home!
What makes this baby monitor a sweet deal is the 5-inch 720p parent monitor display that shows vivid, high-resolution details when capturing video of your babies or separate rooms. Its night vision also lives up to the quality video expectation, so you can safely monitor dark spaces without much trouble.
It comes with two cameras but you can actually connect up to four cameras and cycle through each camera view. The device comes with included two wide-angle lenses that you can fix onto the cameras to increase the viewing angle to 110 degrees from top to bottom. You can also pan the camera up to 330 degrees and zoom up to two times to see every corner of the rooms.
Battery life is great having built with 2900mAh power capacity and VOX mode, so you can use the baby monitor up to 15 hours of single-charge monitoring. It has a pretty decent working range up to 460 feet, and you can either mount the cameras or keep them portable for travel.
The monitor will instantly notify you when your child is crying via sound alerts. There's also the intercom function, lullabies and temperature detector to complete your best baby monitor for two rooms package so this is definitely one of the awesome models out there.
Pros:
Long battery life with rechargeable batteries
Large high-definition screen
Does not require app or WiFi to work
VOX notification level can be adjusted
Ability to control cycle length
Cons:
Parent unit menu not so user-friendly
No split-screen function
Range is quite short
Sale
Chicco BravoFor2 Standing/Sitting Double Stroller, Iron
Accommodates 2 children: front seat + Back seat/platform for big kids to ride or stand
Front seat folds forward to accept Chicco Key Fit or Fit2 car seat, and includes 5-point harness, adjustable canopy, and detachable child tray
Bonus back seat includes 3-point harness and folds up to make room for standing
5. Infant Optics DXR-8 Video Baby Monitor
An award-winning video baby monitor, you wouldn't want to miss checking out the Infant Optics DXR-8. This popular unit's best feature lies in its cameras.
Pan, tilt and zoom the camera view from the comforts of the parent unit. You can actually change the camera's lenses to zoom lens for a closer look or wide-angle lens to see the whole room from your set angle. You can add on camera up to four units if you need more cameras to monitor two rooms, and the Scan Mode feature will cycle through each camera view on your 3.5-inch feed size.
You don't have to worry about the monitor draining battery easily as you can activate audio-only mode and have the screen off while maintaining awareness of your baby's cries via its sound-activated LED bar. This is also good for when you're sleeping at night as you won't be watching the screen and there won't be bright lights to annoy you.
In case you need to have the sound alerts off, you can set it to mute and only observe for visual cues on the parent unit. Other features of this device include two-way audio communication, out of range alerts, infrared night visions, temperature display and an extra charging cable.
You will also feel safe and secure knowing that your baby's data will be hacked since this monitor uses 2.4GHz channel with FHSS technology. This is one of the lightweight baby monitors around, weighing about 2 pounds.
Pros:
Lightweight for high mobility & travel
Good-sized 3.5" screen
Battery is rechargeable and lasts up to 12 hours on audio-only mode
Clear video plus audio quality
Easy to use and pair extra cameras
Decent range up to 700 feet
Cons:
No dual screen
No lullabies
Quite pricey
Graco Modes Duo Stroller, Shift
Your purchase includes One Graco Modes Duo Double Stroller in Shift color | 2 Removable seats with trays and cup holders
Stroller dimensions – 46" L x 25.5" W x 45" H | Seat space – 7.5" | Seat back – 17" | Stroller weight – 42 lbs. | Front/Rear seat max hold weight (each) – 50 lbs. | Rear wheel size – 8.5" | Front Wheel Size – 7.5"
Accepts two Graco Snug Ride Click Connect Infant Car Seats
6. ANMEATE Video Baby Monitor
Parents on a tight budget, rejoice! This ANMEATE Video Baby Monitor is an ideal option if you want a baby monitor that is feature-rich yet doesn't break the bank when it comes to price.
Pair up to four cameras to scan more than one room, and you can monitor these spaces remotely from the 2.4-inch parent unit display. It is a pleasant surprise to note that the parent device sports a full color screen with high-quality imaging, allowing you to zoom in for a magnified look and out.
This video monitor also takes a step higher in its monitoring game with cameras that have 8 infrared LED lights for enhanced night vision that is automatically switched on when dark setting is detected. You will be notified via alarms or on-screen message when ambient temperature reading goes out of presets.
This best baby monitor for two rooms also has a rather good range of up to 960 feet so you will be connected despite being rooms or levels apart. There is Eco Mode to conserve battery, and soothing your baby is convenient with four pre-installed lullabies and two-way intercom.
Pros:
Super affordable
Plays 4 calming lullabies
2.4GHz FHSS technology for secure monitoring and less channel interference
Picture quality is clear
Good battery life
Easy to use and portable
Cons:
Small screen
Cameras need to be manually adjusted
Temperature reading may not be very accurate
Baby Trend Sit N Stand 5 in 1 Shopper Stroller
5 modes of use to accommodate your growing family
Magnetec basket can hold up to 30lbs of parents' Key essentials.
Comfort cabin includes removable extra-long canopy with UPF 50+ protection; Deluxe fabrics and padding provide premium comfort
7. Babysense V65 Baby Monitor
The Babysense V65 Baby Monitor is a versatile baby gear not to be missed — if you want a baby monitor choice that comes with 2 cameras and adjustable mounts for increased coverage, and provides a stable, hack-free 2.4GHz FHSS connection, this is the one for you!
Another best baby monitor for two rooms, watch over your kids and every corner of your two rooms with ease and in peace via the clear and crisp video feed on the 5-inch parent unit screen. You can pan and tilt the viewing angle remotely, ensuring nothing escapes your vision, or zoom in on details up to two times magnification.
When low light is detected, the smart monitor automatically switches to night mode so you can keep track of your babies even in the dark. There is a power-saving mode that you can set to prolong its battery life, in which the monitor's screen only comes to life when baby noises are detected.
No worries if you can't reach out to your kids in time — the built-in microphone and lullabies help to hold the fort in soothing them from afar. You can do so up to a range of 960 feet based on open space setting.
You can also monitor room temperature with this device to ensure your babies' are comfortable, and if 2 cameras aren't enough, this monitor takes up to 4 cameras.
Pros:
Not enough tilt range
Poor battery life performance
Cons:
Quite heavy
Noise sensitivity could be improved
Sound quality over the intercom rather robotic
Sale
Joovy Caboose Graphite Stand On Tandem Stroller, Black
Most compact and maneuverable double stroller available allows your older child to sit and stand on the rear platform or bench seat , Care- Spot clean or seats can be submerged in water for deeper cleaning
2 year warranty is 4 times longer than the Baby Trend Sit and Stand warranty and 2 times longer than the Graco Ready2Grow warranty - Satisfaction Guaranteed
Includes a Universal Car Seat Adapter that fits most major brands. Check the Joovy website for the most recent list
8. HelloBaby HB65 Baby Monitor
The HelloBaby HB65 Baby Monitor is another best baby monitor for two rooms option with a 3.2-inch LCD screen. You can purchase additional cameras to monitor the two separate spaces as it can accommodate up to 4 cameras at a time.
This monitor is easy to set up — just plug in the cameras and start using immediately. The parent unit works on batteries that are rechargeable to keep you in the know up to 1000 feet in open space range without sacrificing mobility as you tend to your house chores.
You can safely pan, tilt and zoom on each room with just a few presses on the parent unit without hacking concerns thanks to the secure wireless encryption technology. Listen in to your babies' cries clearly and make use of the two-way communication function to talk to them from the other end. You can also play lullabies to soothe them as you make your way to check on them.
Additional features that are present within this monitor include sound-level indicators, ambient temperature monitoring, night mode and audio-only mode. You can adjust brightness and sound preference easily on the user-friendly menu.
Pros:
Lightweight and portable
User-friendly interface with easy-to-press buttons
Picture quality is good
Medium-sized screen
Motion detection and night vision up to expectation
Cons:
Not enough tilt range
Poor battery life performance
Baby Trend Sit n Stand Sport Stroller, Meridian Hill
Accomodates up to 2 children sitting in stroller seats, an infant car seats, or one sitting and one standing
Stroller allows your older child to stand on the rear platform or sit on the rear seat
Accepts Baby Trend infant car seats to make a travel system
Monitoring Two Spaces Made Easy
That's a wrap on our list! Having a baby monitor that can support 2 cameras or more is definitely handy especially when you want to check on your kids in two separate spaces within your home while tending to your work.
Among the ones listed above, our favourite goes to Axvue E662 Video Baby Monitor. We find this monitor suits our needs in terms of budget, picture quality and range. The smaller screen and lack of dual-view are the downsides that we can deal with since the built-in features are enough to compensate for those two at such a price tag.
Which one is your top pick? If you find this guide useful, help us spread the word!
—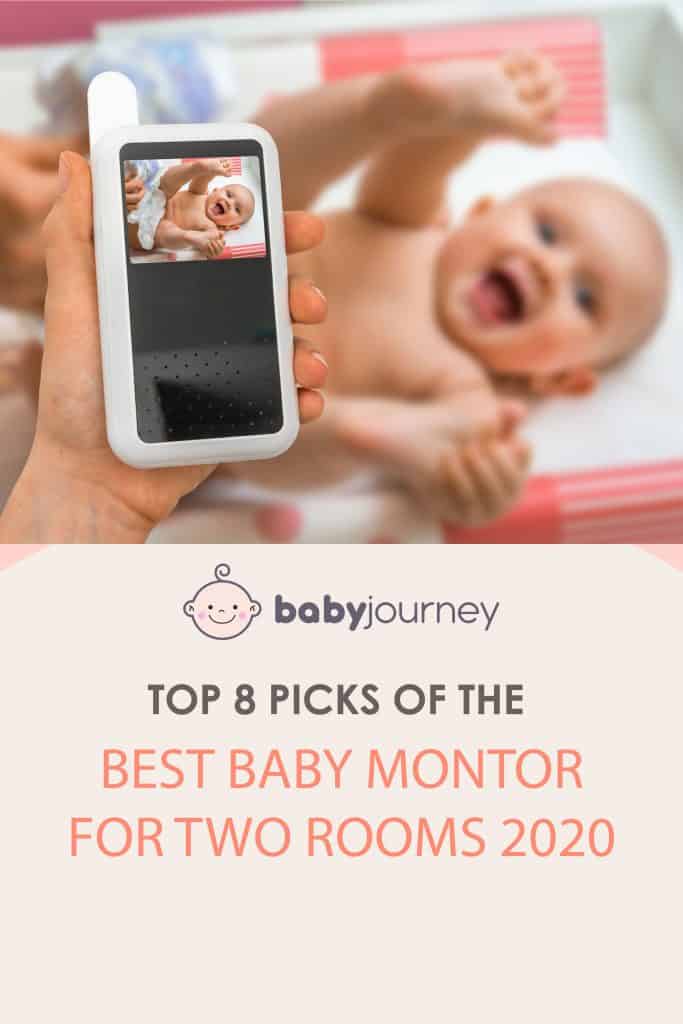 Last update on 2020-08-05 / Affiliate links / Images from Amazon Product Advertising API