Last Updated on
As a mom or a dad, we all want to know whether our baby is sleeping fine at night. We try to prepare the best nursery room with an ideal ambiance, but there is no way we can control whether they are breathing or their heart is beating. But, there's one thing we can do to get that peace of mind (or reduce our paranoid!) – track and monitor their breathing pattern. One of the best products for you to try? The Mimo Smart Baby Movement Monitor. In this Mimo Baby Monitor Review, I will share its design, quality, and performance!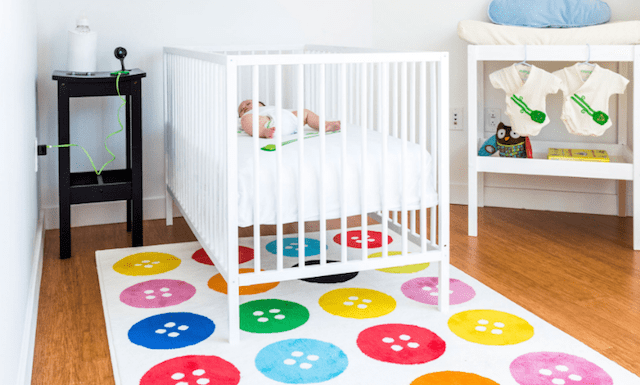 Source: Mimobaby.com
Things to Consider Before Buying a Smart Baby Movement Monitor
One of the must have accessories for parents with babies has got to be the smart baby movement monitor. Sure, our parents back in the day did not have this cool gadget, but I am certain if it existed back then, they would get it too!
Why smart baby monitors important?
The main question that might be playing on your mind right now is: why in the world should I buy this for my son or daughter?
Well, the answer is it helps you to detect if there is any abnormality in your little child's breathing pattern. It is especially important because you will not be awake the whole night to carefully watch he sleeps or breathes.
This advanced baby monitor is handy to have. These days, you can make use of your home Wi-Fi connection or Bluetooth to collect data from the sensor to your smartphone.
So, the next time you think your baby is having a health problem, you can show this data (which represented in a very easy-to-understand format and graphic visual) to your doctor.
Having said that, I think parents who have a baby with health complications should consider using a smart baby monitor at home.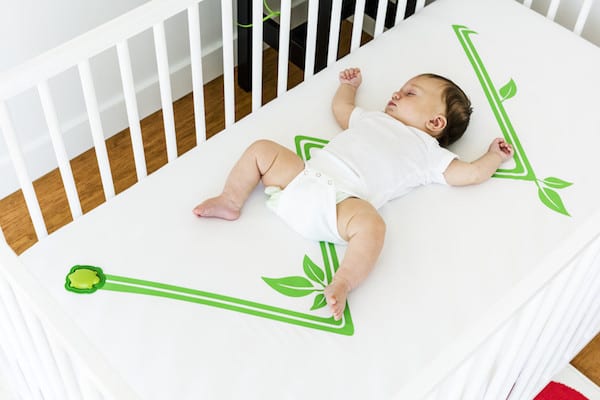 Source: Mimobaby.com
Important criteria of the best smart baby movement monitor
But, before you go ahead and splurge on this monitoring technology, let us see some of the important criteria you need to consider on a smart baby monitor.
Sensor and smartphone/tablet smooth integration – you need to make sure that the monitor you are buying can communicate well to your smartphone. It should also be able to transmit and store data accurately.
Not too invasive for your child – since your baby needs to get his sleep, there is no use of getting a sensor that is bulky and intrusive. It should be small, lightweight and unnoticeable.
Less wire to avoid tangle – between wired and wireless option, the latter is better for the sake of your baby's safety (i.e. avoid strangulation).
Secure data transmission – since you will be sending sensitive data to your smartphone, you should ensure the technology is encrypted. The two-way radio communication should be highly secure.
Introducing – Mimo Smart Baby Movement Monitor
In this Mimo Baby Monitor Review, I will bring your focus to the model called Mimo Baby Activity Tracker.
So, what does it do? It collects your baby's movement while sleeping, alerts you when he's not moving for a given period, and send heart rate data to your smartphone with the help of the smart bed sheet and turtle-shaped sensor.
The data is transferable via a Low Energy Bluetooth which is a unique feature of this product. With the purchase, you will get the smart sheet, turtle sensor, Lilypad (the charging base), wire, and plug.
It is a sibling model of another similar Mimo baby movement sensor product called Mimo Baby Sleep Tracker that comes in a shape of a wearable baby onesie. It comes with same accessories like I already mentioned above.
Mimo Baby Activity Tracker is perfect for you and other parents who do not wish to apply any sensor directly on their baby's body.
Things We Liked
Simple design and non-invasive for baby with the crib sheet design
Detect the breathing and movement pattern accurately
Easy to setup even for first-time users
Affordable price
Can capture body position, temperature, and live audio
Things We Didn't Liked
The Lilypad base sometimes fails to charge the turtle sensor
Do not offer video capture
Can fail to collect data if your baby move outside of the sheet
Feature and Benefits
1. Stylish design
One of the best features of Mimo Baby Monitor is its sleek design, high-quality material and baby-friendly approach.
Now, Mimo is one of the household names in the baby monitoring system industry. They have several high-quality (not forget to mention cool-looking) sensor devices under their portfolio.
Source: Bnext.com.tw
With such experience, they know that they need to create a product that looks pretty for a child to use and made of durable hard plastic materials to ensure the baby will not break the gadget that costs hundreds of dollars.
The turtle sensor design is brilliant because first, it is cute. Secondly and most importantly, it is sturdy and durable. A drop on the floor will not easily break the turtle shell!
2. Smart crib sheet that capture movement, body position, skin temperature accurately
Mimo baby monitor is a washable crib sheet. Unlike the regular one that you can purchase at Walmart or Target, this crib sheet comes with a transmitter and movement sensor in a shape of a turtle.
Source: Amazon.com
I think the company has done an excellent job in designing the product as it is very intuitive and user-friendly. You just have to put this smart sheet in your baby cot and have your son to sleep on it at night.
The transmitter will then capture your child's heart rate, body temperature, sleeping position in real time and transfer this data to your Apple or Android smartphones. Can you imagine doing all these yourself at night? Me neither!
3. Stable and safe Bluetooth technology
Another feature that has caught my attention is the low-powered Bluetooth connection installed in this model.
Instead of going to the regular route, the company has opted to use a safer Bluetooth technology for babies.
Source: Mimobaby.com
Now, we might not see the advantage today, but later down the road, we have protected our little children from hazardous wavelengths!
But do not underestimate this ultra-low power Bluetooth as it is still capable of transferring accurate data from the transmitter to your smartphone or tablet!
4. Free mobile apps with graphic data representation
One of the essential elements of the best baby monitor technology is its ability to deliver the data in a way that you can easily understand.
I mean, we parents do not have much time to peruse and analyze statistical data. It is when Mimo baby app comes to the rescue.
Source: Mimobaby.com
After you purchase this Mimo Activity Tracker, you can download the app from Apple Store or Google Play.
Setting up the mobile app is super easy. Just make sure you have the turtle set on the Lilypad base.
You can setup your account and adjust the notification setting as you like. Once activated, you will start to receive alerts on several things: position, activity, temperature and breathing rate.
Another cool thing about this app is that you can choose what kind of your baby's position would you like to be alerted; either your son is sleeping on his back, side, stomach or sitting upright.
5. Cool integration with Nest Home Automation System
If you are a geek parent who happens to have Nest home system, then this smart baby monitor is ideal for you.
Source: Mimobaby.com
You can integrate this Mimo tracker with your Nest Learning Thermostat to adjust the room temperature and NestCam to get a visual look at your baby.
With such integration, you have just turned your son's room into one, smart nursery!
Social Proof – What Others Say About This Monitor?
I have scoured the internet on your behalf to look at what other moms or dads have got to say about Mimo baby monitor. Let's check them out.
1. A mom from All About Baby's World Blog
Source: Allaboutbabysworld.com
This mom loves how easy it is to use the Mimo monitor. She likes how she can finally understand her daughter's breathing pattern and know that her baby is sleeping fine at night!
A review from Loving Mom's Diary Website
Source: Lovingmomsdiary.com
This happy user calls Mimo product as the futuristic baby monitor solution! He also commented that it is ideal for parents who do not co-sleep with their baby.
A Mom from The Megalomaniacmommy.com
Source: Themegalomaniacmommy.com
Anne, a wife and a mom of 5 said that Mimo Smart Baby is one of the eight essential gadgets that you should have once you become a parent. She said the product is very comfortable for the baby and keeps a detailed historical data on your child's sleeping behavior.
Alternatives Models
Owlet Smart Sock 2
Source: Amazon.com
Owlet smart sock 2 is a similar baby monitoring system that helps to track vital signs on your kid. But, instead of using a crib sheet, it uses a smart sock to detect the pulse rate and comes with a portable charging base.
An additional feature includes oxygen level detection. The price of this smart sock is higher than Mimo's model, at about $300!
Read more: Owlet Baby Monitor Review
MonBaby Movement Monitor
Source: Amazon.com
MonBaby is another excellent baby monitor device that tracks data like breathing rate and your son's rollover positions. It uses a button type of device as a sensor. You just need to snap it on your baby's clothes whenever he goes to sleep.
Price wise, it is cheaper. It is small, quite accurate, and provides well-designed mobile apps that you can install on your smartphone.
AngelCare Movement and Sound
AngelCare Movement and Sound Monitor is also a great alternative for you to consider. It comes in two different components; the sensor pad that you place in your baby's crib and the monitoring device that you keep with you.
Similar to Mimo, AngelCare detects movement and the room temperature. If it does not catch any movement from your baby, it will send an alert to your portable device. The only thing missing here is that there is no smartphone integration.
Read more: AngelCare Baby Monitor Review
Conclusion of Owlet Baby Monitor Review
Your sleep at night will no longer be restless if you have Mimo Baby Activity Tracker installed in his nursery room. It is reliable enough to alert you in case your child stops breathing, does not move, or change into a dangerous sleeping position.
You can also listen to the sound inside his room. There is no need for you to get up off your bed and walk to his room when you can just listen via the device. I think it is a handy monitoring tool to have if you are new parents!
If you are interested to learn more or buy it right away, click here (Amazon Link)! I am sure you will be happy with your purchase!
Last update on 2020-02-17 / Affiliate links / Images from Amazon Product Advertising API